Teneo Publications >
Displaying 1 to 3 of 3 of books in Criminology and Law in order of Author.

A Rhetorical Inquiry
ISBN: 9781934844014
A pioneering rhetorical inquiry that breaks new ground in Lizzie Borden studies. Read More..

Halfway House Stories
ISBN: 9781934844229
An important contribution to the sociological and social service literature.It is also a well-documented work that, with little jargon, neatly blends theoretical and applied sociology with historical description. Read More..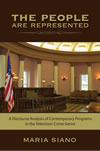 A Discourse Analysis of Contemporary Programs in the Television Crime Genre
ISBN: 9781934844052
This study analyzes the discourse about criminals presented in the television criminal genre, and identifies shared media messages used to socially construct "the criminal" in society. Read More..